Instructions for the PACK 190 Photo Gallery
Questions? Contact   PACK190@pack190hunterdonnj.org
PACK 190 Members Only
The Pack 190 Photo Gallery is for the posting and sharing of Pack 190 and Den photos taken during Cub Scout meetings and activities.
To sign up:
There are a couple of ways to sign up for the photo gallery:
1) Go to www.pack190hunterdonnj.org/photogallery/
2) On the upper left, click on "Register"
<![if !vml]>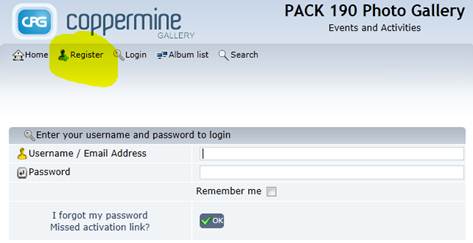 <![endif]>
3) Read the terms and conditions and if you agree, click "I agree".
4) Complete registration information as best you can. An example is provided. You can chose your own password.
<![if !vml]>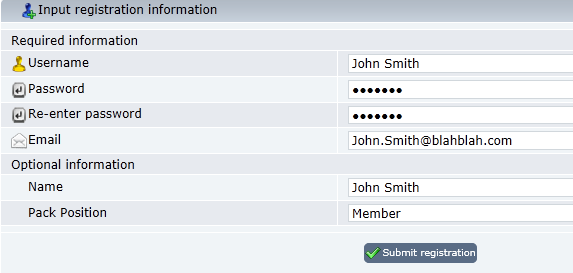 <![endif]>
5) Before you begin you will have to wait for the administrator to authorize the registration. You may be contacted for verification. Only members of PACK 190 will be allowed access.
6) If you have trouble, registration can be done for you. Contact PACK190@pack190hunterdonnj.org for more information.
Photo Gallery Directions:
Where to post photos:
The photo gallery has a number of different albums under a membership year. Please post any photos to the most relevant album:
PACK 190 General and Misc Pics
Den 8 Tiger
Den 4 Wolf
Den 7 Bear
Den 1 Webelo I
Den 3 Webelo II
Blue and Gold
Pinewood Derby
Overnight
Campout
Photo File Size:
There is a limit to the file size. For pictures that exceed the limit you can reduce the file size in the following way:
For PC users:
<![if !vml]>

<![endif]>Open "Paint". You may have to type "Paint" in your Start icon at the bottom left of your screen.
Copy the picture you wish to post to a new location so you don't accidentally overwrite the original picture.
Open the copied version of the picture from "Paint"
Select "Resize" and resize the picture by 50% or so. Save the picture and check the file size.
<![if !vml]>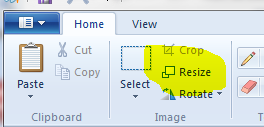 <![endif]>
For normal pictures target a files size of about 300 kb by resizing the picture more or less than 50%.
For nice quality pictures that you think someone may wish to download in high resolution target a larger files size – maybe 800 to 1000 kb.